Genome Canada Transplant Consortium is an organization with a mission to improve kidney transplant success rates. Today thousands of British Columbians are alive because of an organ transplant.
After timely research searching for the right partner, they chose Graphem Solutions to design and develop their new website that would improve user experience, navigation and address their content-flow challenges.
After analyzing their old website, Graphem suggested putting emphasis on a fluid content-driven layout that prioritized simplification of navigation and the interconnectivity of content to improve user experience, minimize bounce rates and maximize lead acquisition.
Graphem is to create a new website for Genome Canada Transplant Consortium, incorporating existing and new content. Emphasis on the project is placed on user experience and speed optimization.
Project Timeframe: 6 weeks
With continuous research in genome transplant and growth in committed reporting, GCTC has seen higher demand in information access to Publications and overall access to their website. The quick access to this information and user web experience was becoming a challenge for the organization and was no longer manageable in the confines of the companies old website.
Project Goals & Objectives
Graphem Solutions wanted to make sure that the GCTC website visitors receive information quickly in an organized and straightforward manner. Thus, improving navigation, user experience, speed and the overall appeal of the website while minimizing bounce rates.
As part of Graphem's agile approach, the project started with a kick-off meeting that provided a better understanding of stakeholders' needs and established a project workflow process that was followed throughout the project.
Design Strategy Prototyping & SiteMap
Our design and development team collaborated on creating and choosing a design direction as well as mapping out the design to content. This allowed the team to have a fixed sitemap with an overall design strategy to present the client with layout options for key website pages ahead of the development stage of the project.
Content Layering & Asset Acquisition
Graphem worked closely with GCTC to better understand business-related content and align provided and acquired graphic assets with proper copy elements to create a logical content flow.
Graphem and GCTC held weekly project meetings to ensure alignment of requirements and analyze the deliverables for each sprint in the development stage.
Each sprint completion was analyzed, and adjustments were made to better accommodate stakeholders' needs.
Upon completing the website development, the project went through the following tests in a controlled environment before the launch:
Functionality testing
Usability testing
Compatibility testing
Interface testing
Performance testing
Security testing
As part of the speed optimization strategy, the website was hosted by Graphem on an upgraded server. The website domain was updated to display the new site, and a documentation guide was created for the GCTC Team.
While putting emphasis on a fluid content-driven design, Graphem simplified the navigation and created an interconnectivity between pages to create a user-flow unique to GCTC.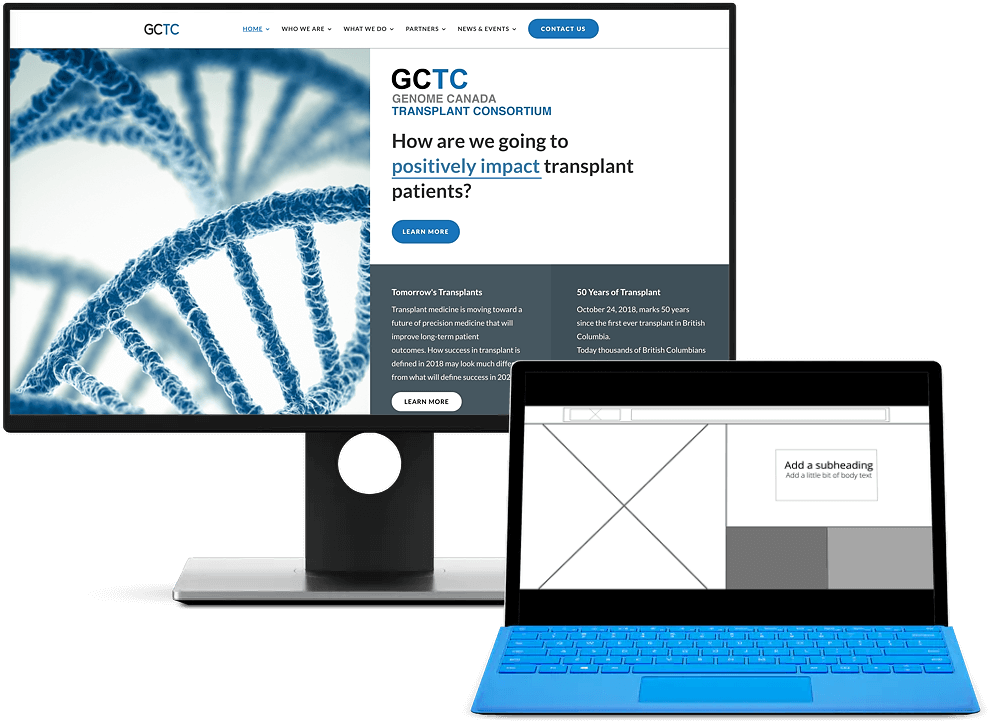 An emphasis was put on Research Activities. A design showcasing the research work completed by the GCTC team.
To allow for event management, an interactive event calendar was integrated into the website that provides a list as well as single day and monthly views with an in-calendar purchase support.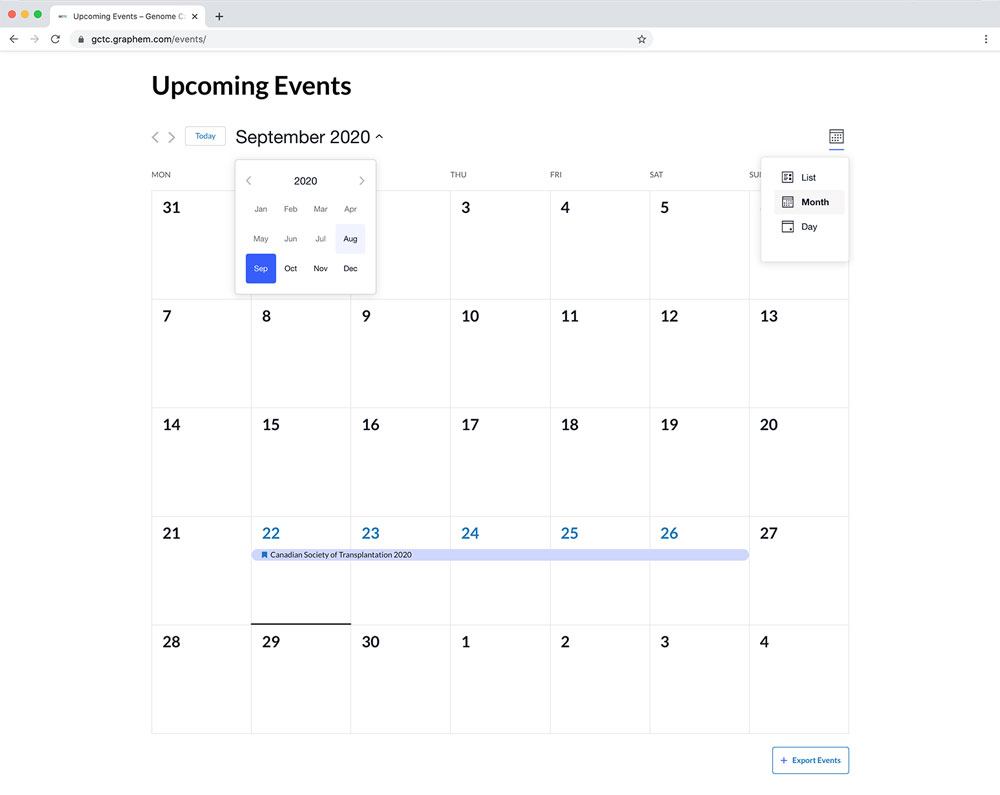 GCTC team had many contributors that the old site struggled to accommodate. A solution was introduced that packaged the long list into four accessible, dynamic lists that drastically improved the UX of the website.